DECLUTTER: JUST GET ON WITH IT!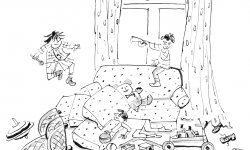 It's a well-known fact that messiness can make us feel anxious, but having a mass clear out always feels a little daunting. So this weekend, we encourage you to engage in some simple decluttering techniques to create your own tranquil environment. 
In her new book Declutter, Debora Robertson shows us that decluttering doesn't have to mean throwing everything away, it simply means reorganising and prioritising. 
In Marie Kondo's bazillion-selling The Life Changing Magic of Tidying, she urges us to keep only that which sparks joy. While this works for many, it doesn't really work for me. If I paint it in glitter and call it Marlon, my washing machine is never going to spark joy in my heart, though it is essential to my day-to-day life. Personally, I find the absolutist approach too challenging, too lacking in acknowledgement that life is sometimes complicated and our relationships with our possessions complex. But Kondo's attitude to constantly evaluating and editing your possessions is an excellent habit to develop. As you move about your home, keep these three categories in mind:
Move (somewhere else)
Sell/Give (away)
Toss (out)
Ask yourself:
Do I love it?
Do I need it?
Do I use it?
As you sift through your possessions, try to think: Does it lift me up or bring me down? Does it make me feel good? Is it useful right now, not at some undefined point in the future? If you possibly can, try to handle things only once – putting things down 'to deal with later' is how we become overwhelmed with stuff in the first place. Later is now.
Another important question to ask yourself as you consider whether you want to hold onto something or not is, Is it earning its keep? I am not just talking about whether you use it or love it, but whether you use it or love it enough to carry on paying to keep a roof over its head. At a time of stratospherically high rents and property prices, many of us consider buying or renting larger homes (or in the case of homeowners, extending the ones we already have at huge cost) just to house a wealth of possessions which in many cases we're not that wild about. We're simply used to them being around, like the worst kind of house guests who don't make any contribution and expect you to constantly pick up after them. 
You may already be sitting in the house of your dreams. You just can't see it for the junk. In order to deal with the junk situation or, more correctly, to avoid dealing with it while running through money like an excessively caffeinated Kardashian, more
than a quarter of a million of us rent space in self-storage units.
My local self-storage company advertises itself with the slogan: 'Enjoy the freedom of a decluttered home. Store your excess belongings at Out of Sight Out of Mind Out of Pocket Storage.'* Its website explains how you will feel a weight off your shoulders if you simply rent a unit. You certainly will, but this is the worst sort of possession procrastination. A 7.5m2 unit, for example, costs £70 a week to rent. That's more than £3,600 a year. If you're considering dumping it all in a storage unit to deal with 'later' (you know by now how I feel about 'later'), work out how much it will cost in a year and then do a quick calculation of how long it takes you to earn that money. Chances are, you could buy a brand new sofa, bread maker, complete set of Lee Child paperbacks and exercise bike for what it would cost you to keep the same things in storage for a year.
More declutter tips and tricks in Debora Robertson's Declutter