POPCORN & CARAMEL ECLAIRS RECIPE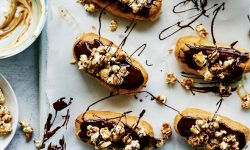 Summer is a time for celebrations, holidays and weddings, which usually goes hand-in-hand with lots of delicious food. But there is a way to still maintain a balanced diet and not suffer with feelings of over-indulgence. 
Bestselling cookbook author, Kathryn Bruton shows us how even desserts can still be decadent, sweet and satisfying without the burden of stretching your waistline in her new book, Skinny Desserts.
Try these delicious popcorn and caramel éclairs this summer. You won't regret it!
Makes 12
Carbs 00g Sugar 00g Protein 00g Fibre 00g Fat 00g Sat Fat 00g Salt 00g 
183 calories
75ml (2 ófl oz) semi-skimmed milk
70g (2 óoz) unsalted butter, cubed
20g (1oz) caster sugar pinch of salt
seeds of 1 vanilla pod
150g (5oz) plain flour
3 medium eggs
20g ( ¾ oz) popping corn
1 teaspoon sunflower oil
15g (óoz) peanut butter
15g (óoz) maple syrup (honey
will also work here)
ó teaspoon Maldon sea salt
250g (9oz) 0% fat Greek yogurt
40g (1 óoz) caramel
70g (2 óoz) dark chocolate, minimum 70% cocoa solids, melted
Note: store unfilled éclairs in an airtight container and fill and decorate just before serving. The éclairs will keep for a few days.
Preheat the oven to 180˚C/350˚F/gas mark 4. 
Line two large and one small baking trays with greaseproof paper. Put the milk, butter, half the sugar, salt, vanilla seeds and 125ml (4fl oz) of water in a saucepan over a
medium heat. Sift the flour onto a sheet of greaseproof paper. When the butter has melted, pour in the flour.
Beat with a wooden spoon, over the heat, until a smooth dough forms that comes away from the edges. Beat the dough in an electric stand mixer for 1–2 minutes to cool. 
Once cool, add the eggs, one at a time,
beating constantly, ensuring each is fully incorporated. 
Transfer to a piping bag and pipe twelve éclairs onto the large baking trays, each about 12cm (4 óin) long. Bake for 25 minutes until golden and hollow.
Place the popping corn in a saucepan with the sunflower oil over a medium heat. Cover with a lid and shake from time to time until all the corn has popped.
In a bowl, mix together the peanut butter, maple syrup and salt until smooth. Add the popcorn and toss to coat. Transfer to the small baking tray and bake for 5 minutes to crisp, turning halfway through. Set aside.
Mix the yogurt, remaining sugar and caramel until smooth. Transfer to a piping bag and chill until needed.
Transfer the cooked éclairs to a wire rack and when cool enough to handle, pierce a small hole in the end of each one. When cold, pipe in the yogurt mixture, drizzle over the melted chocolate and sprinkle with the popcorn. 
Leave to set, then serve.
More delicious sweet treats in Kathryn Bruton's Skinny Desserts