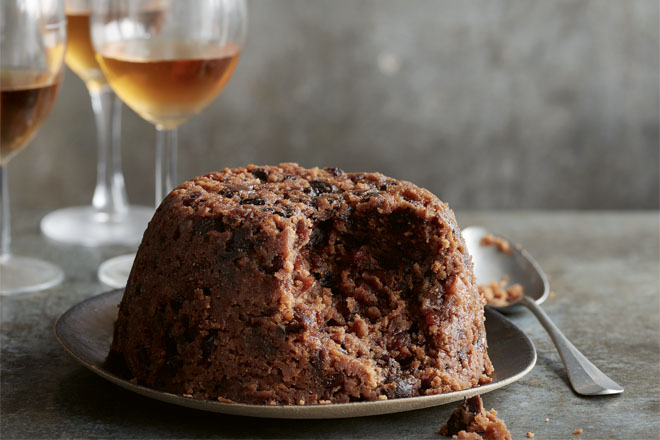 This is a mongrel of a recipe, tweaked over the years by new ideas, missing items, gathered suggestions and a need to use up what was in the cupboard. The large mix of dried fruits could be simplified, as long as it all adds up to the same weight. The sultanas and the candied peel are a must, though. I've got a bit of a free hand with the booze and tend to soak the fruit for a couple of weeks, and feed the odd bit of sherry and port in there too, just to really plump things up, so consider the 200ml suggested here just as a starting point! This is best made a few months before Christmas and stored somewhere cool, as the flavours mature over time. Some people suggest making it a whole year ahead, so that each Christmas you create and store the pudding for the following year. This recipe will fill a 1.5-litre pudding basin, enough to feed 8 people easily, or it can be split between  2 basins for smaller puds. Use the single almond in place of the traditional lucky silver penny. It saves the threat of choke hazards and/or dental costs. Whoever finds it is excused from the festive washing up.
Prep 1 hour, plus 3 days soaking
Cook 4 hours, plus 3 hours reheating
Ingredients
100ml dark stout
100ml brandy
150g sultanas
100g prunes, chopped
100g dried figs, chopped
50g dried cranberries
50g dried apricots, chopped 50g candied peel
150g vegan suet
150g light muscovado sugar 100g ground almonds
120g self-raising flour
finely grated zest and juice of 1 orange
1 large quince or cooking apple, grated
1 teaspoon mixed spice
1 whole blanched almond
a little flavourless vegetable oil
Method
Mix the booze with the dried and candied fruits and leave for at least 3 days, turning twice a day. In a large bowl, mix all the other ingredients together except the whole blanched almond and the oil, then stir in the booze-soaked fruit.
Grease a 1.5-litre pudding basin (or 2 smaller basins) with a little plain oil. Pack the mixture in and level it with the back of a spoon. Push the whole almond in at a random point. Top with a pleated circle of greaseproof paper, then a pleated sheet of foil. The pleats allow the pudding to expand without pushing the coverings off. Tie them on tightly with string. If your pudding basin has a lid, pop it on over the foil. Place in a steamer basket and cook for 4 hours, topping up the water as needed. Allow the pudding to cool completely. Remove the foil and paper, then wrap tightly in clingfilm and top with a fresh sheet of foil and the lid, if there is one. Store in a dark cool place until needed. To reheat, remove the clingfilm and replace with greaseproof and foil, as before. Steam for 3 hours, until heated through. You can reheat it in a microwave, without the foil on, in 6–8 minutes – although, for some reason, this doesn't feel quite right.
More delicious vegan recipes in Matt Pritchard's Dirty Vegan Another Bite