Marks & Spencer have taken mini eggs to a new level with their milk and dark chocolate delights encasing a truly delicious and indulgent filling of white chocolate and passionfruit ganache. A grown-up treat. Try not to eat all six.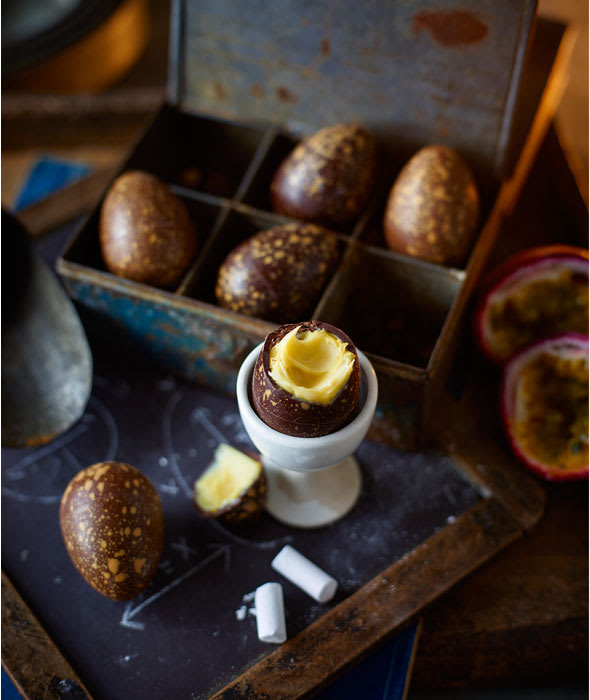 ---
If eggs aren't your scene, why not tuck into a Hotel Chocolat's Egg Sandwich? Complete with its classic takeaway sandwich box, this is a fun twist on the Easter staple which is sure to bring a smile!
---
Chococo's Dorset Dinosaur Studded Egg is not only beautiful on the outside with its marbled dark and white chocolate shell but is great fun on the inside as you discover Jurassic Coast mini dinosaurs. Great for children (and adults too) this is an egg like no other.
---
Complete with its luxurious presentation, this gold-foiled egg from Prestat is not only a joy to look at but also a real gem of a treat to taste. Truffles made with gin-flavoured ganache and mediterranen lemon oil are hidden within the delicious milk chocolate egg. This is a worthy homage to a London Gin and tonic – we'd have it all year round.
---
If you really want to splash out this Easter, head to Betty's in Harrogate for their Imperial Easter Egg. Made-to-order and delivered personally, this egg is priced at a whopping £250 but considering this is all handmade and contains over five kilos of chocolate complete with incredibly detailed decoration, you'd certainly receive a real showstopper.