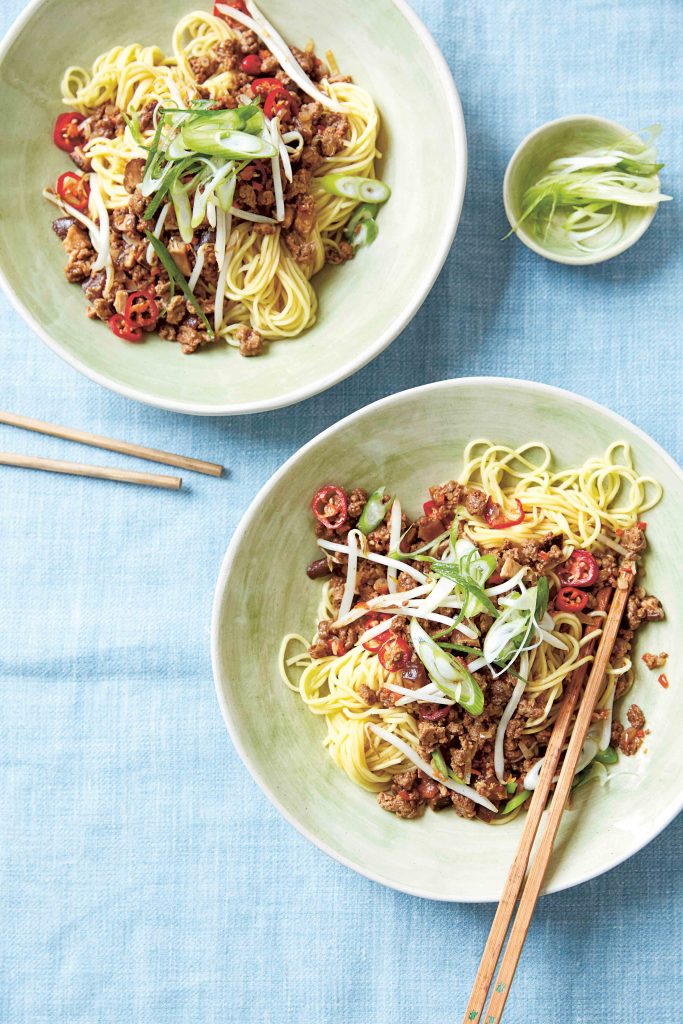 Hokkien Mee is a Malaysian Chinese dish that is usually topped with pork and shrimp and served on egg noodles. My vegetarian version swaps the meat and shellfish for braised Chinese mushrooms and minced soy protein and, in my opinion, they provide a rich, savoury topping that is just as good. It's delicious garnished with spring onion, which adds a fresh bite, and a little red chilli for an extra kick.
1 tablespoon rapeseed oil
2 mini sweet shallots, finely chopped
1 red chilli, deseeded and finely chopped
3 dried Chinese mushrooms, soaked in warm water for 20 minutes, drained and stalks discarded, finely diced
2 garlic cloves, finely chopped
100g Quorn mince or minced soy protein
1 teaspoon dark soy sauce
100ml hot vegetable stock
1 tablespoon low-sodium light soy sauce
drizzle of toasted sesame oil
knob of fresh root ginger, peeled and grated
400g cooked egg noodles
(200g dried)
100g fresh beansprouts, blanched in boiling water for 10 seconds, rinsed in cold water and drained
For the garnish
red chilli, thinly sliced into rings (optional)
a few spring onions, or chives, sliced on the diagonal
Preparation: 10 mins
Cooking: 12 mins
Heat a wok over a high heat and add the rapeseed oil. Add the garlic, ginger, shallots and chilli and explode the flavours in the wok for a few seconds. Add the diced Chinese mushrooms and the Quorn mince or minced soy protein and season with the dark soy sauce to enrich the colour. Add the vegetable stock and light soy sauce and leave to cook for 10 minutes until the sauce has reduced.
Meanwhile, drizzle some toasted sesame oil over the cooked egg noodles. Divide the noodles between two bowls, top with the braised soy mushrooms Quorn mince and garnish with beansprouts, fresh chillies and sliced spring onions.
Serve immediately.
Serves 2 kcal 493 carbs 66.5g protein 20.2g fat 16.2g
This recipe is from Stir Crazy by Ching-He Huang
If you like this recipe why not check out this Dry Braised Beef from A. Wong The Cookbook