Honey & Mint Sausage Hotpot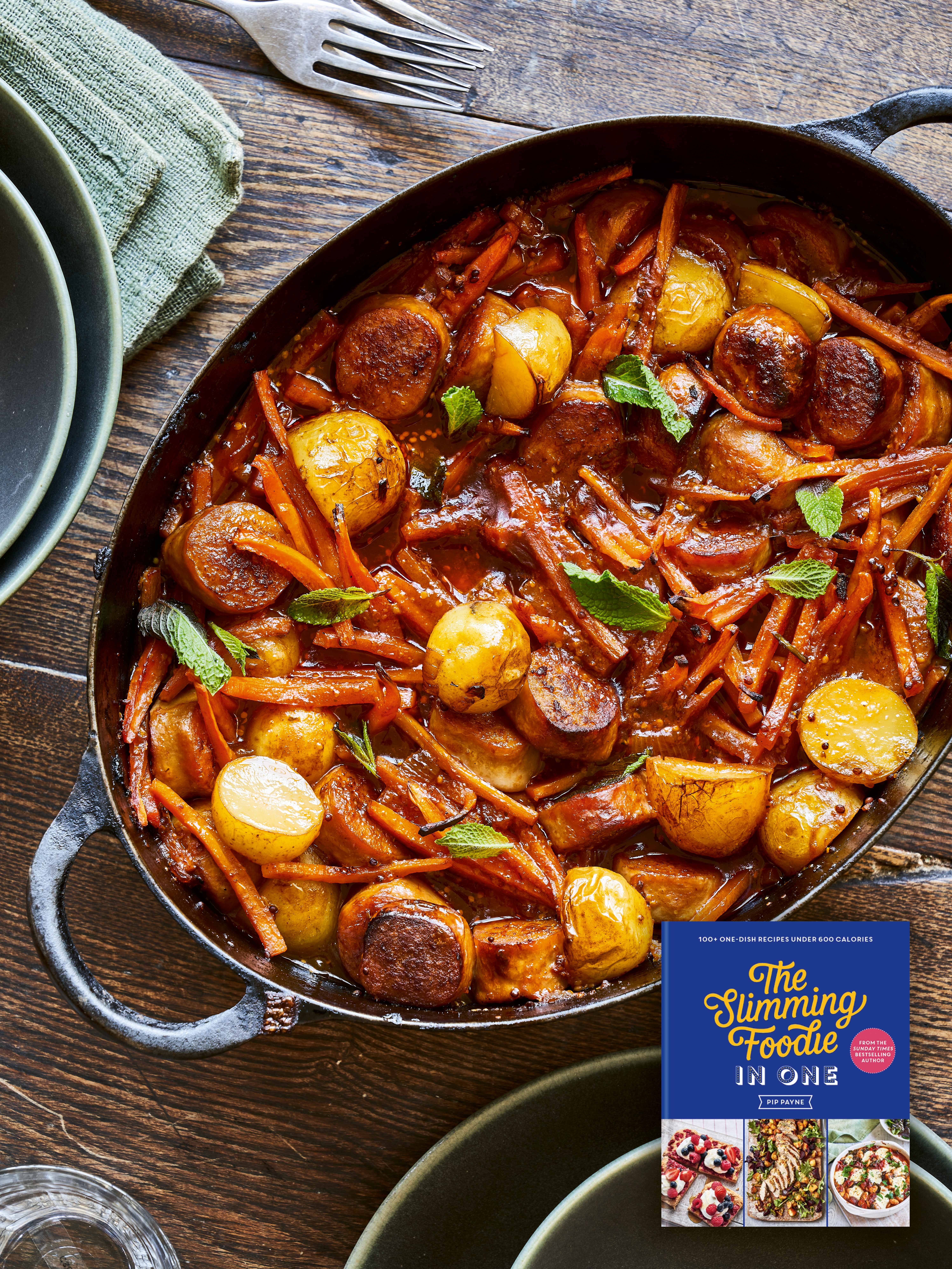 "One of my favourite glazes for sausages is honey and mint. Here, I have brought those flavours into an all-in-one hotpot. The combination of honey, mint and mustard makes a sweet-and-savoury gravy for sausages, potatoes and carrots, which is irresistible and family friendly." Pip Payne, @the_slimming_foodie
Serves 4
Calories per serving: 308
Preptime: 15minutes
Cooktime: 50 minutes
spray oil
1 red onion, finely chopped
8 reduced-fat pork sausages, each cut into 6
2 garlic cloves, crushed
large handful of mint leaves (about 20g /¾oz), finely chopped, plus extra to serve
2 tablespoons red wine vinegar
2 tablespoons honey
1 tablespoon light soy sauce
1 litre (1¾ pints) hot beef stock
2 teaspoons wholegrain mustard
3 tablespoons tomato purée
450g (1lb) baby potatoes, halved, or quartered if large
300g (10½oz) carrots, peeled and cut into matchsticks
salt and pepper
1. Preheat the oven to 220°C/200°C fan (425°F), Gas Mark 7.
2. Spray a flameproof casserole dish with oil and fry the onion and sausage pieces over a high heat for 5 minutes, constantly stirring (don't worry if the sausages break a bit, this will help thicken the gravy).
3. Add the garlic, mint, vinegar, honey and soy sauce to the pan and stir-fry for 2 minutes, coating the sausage and onion and reducing the liquid slightly. Pour in the hot stock, stir, then add the mustard and tomato purée and mix to create the gravy.
4. Add the potatoes and carrots, season with salt and pepper, bring to the boil, then transfer to the middle shelf of the oven (uncovered) and cook for 40 minutes.
5. Give everything in the pot a thorough stir, then serve with mint scattered over the top.
NOTE This is a lovely easy dish to sneak in some more of the family's favourite vegetables! You could replace the potatoes with butternut squash or sweet potato, or
 add mushrooms.
You could also thicken the sauce and bulk up the meal by adding dried red lentils at the same time as the stock.
This recipe is from The Sunday Times Number 1 Bestseller, The Slimming Foodie in One by Pip Payne.