FISH, CHIPS & MUSHY PEAS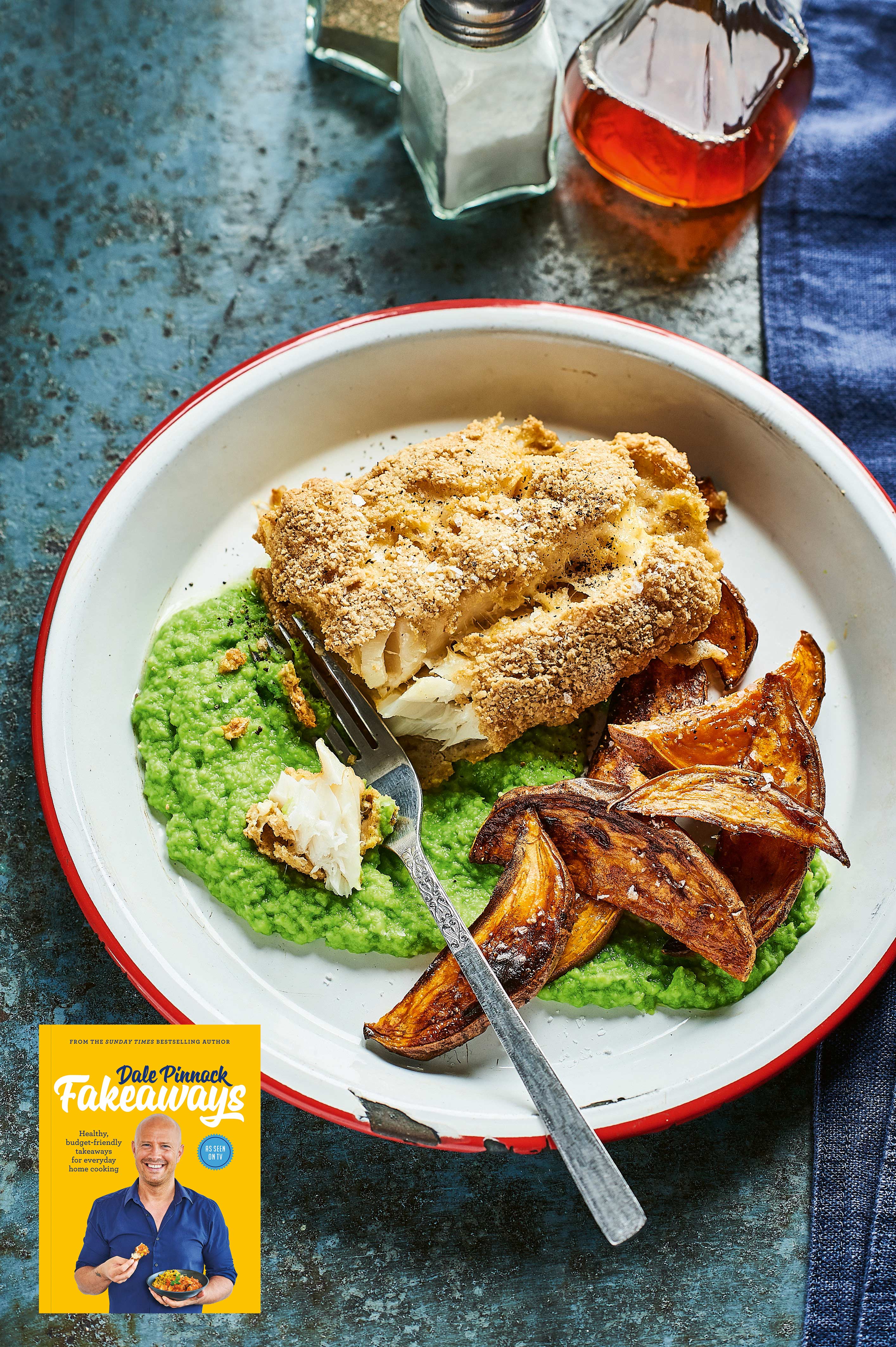 This is not fish and chips as you know it! My version takes a little more effort, I give you that, but is so worth it from both a health and flavour perspective.
2 eggs, whisked
100g oatmeal
2 cod fillets (any white fish is OK)
olive oil
1 large sweet potato, skin
left on, cut into wedges
½ white onion, finely chopped
2 garlic cloves, finely chopped
200g frozen peas
300ml vegetable stock (you won't need all of this)
salt and pepper
Preheat the oven to 200°C, 180°C Fan, Gas Mark 6.
Whisk the eggs in a wide bowl and fill a similar-sized bowl with the oatmeal. Dip one of the fish fillets into the egg, turning so that it's fully covered, then dip the egg-covered fish into the oatmeal. Repeat this process so the fish has a double coating of oatmeal, then do the same with the second fillet. Place the fillets on a baking tray, brush with a little oil and bake in the oven for 20–25 minutes, until golden brown and crispy on the outside.
At the same time, put the sweet potato wedges onto a baking tray, drizzle with olive oil, add a little salt and pepper, then bake for 30 minutes, turning occasionally. They need to be golden with crisp edges and soft inside. While the fish and wedges are cooking, sauté the onion and garlic in a little olive oil along with a good pinch of salt for about 8 minutes. Once the onion has softened, add the peas and a small amount of veg stock, and simmer until the peas are soft. Transfer this mix into a food processor and then begin to purée. You can add some more stock at this point if you want to create a thinner consistency. Place a dollop of pea purée into the centre of each plate. Arrange a fillet of fish and some wedges on top.
Nutritional nugget: Sweet potatoes are one of the best sources of beta-carotene, which is a potent antioxidant. Healthy fats can significantly increase our uptake of betacarotene, which is where the olive oil and eggs come in!
This recipe is from Fakeaways by Dale Pinnock.