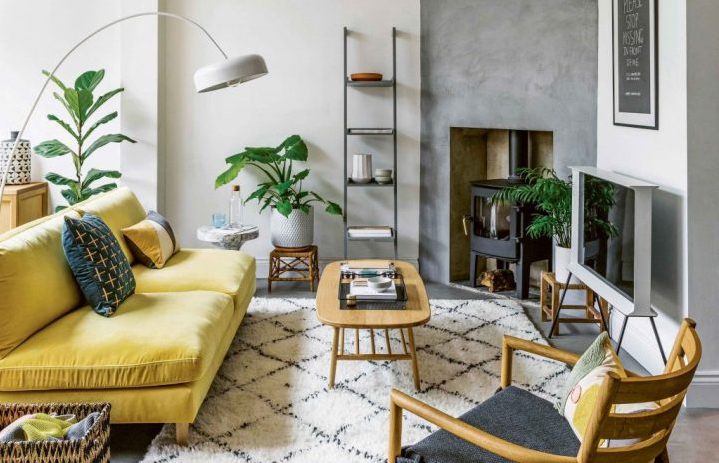 1. Mirrors!
Place a mirror opposite the largest window in a room or in narrow dark spaces to bring in twice as much natural light in. This will give the illusion of more space, in a room. You can opt for standing mirrors or mirrors that can be leaned against the wall to make this hack as renter friendly as possible
If you are using a collection of smaller light weight mirrors, you can apply them to the wall with Command adhesive strips. As long as you follow the weight requirements and other instructions, these strips can be removed from flat walls without causing any damage.
The same also goes for art. Layer an lean 3 to 4 large paintings or prints against a wall, on a side board or even the floor if you want to add personality to your home without hanging.
Some London homes will have picture decorative railing in some rooms, especially ones with high ceilings. In that the case you can also hang pictures or Mirrors from rails using picture rail hooks – which you can buy off Amazon
2. Rugs
This is an easy one! But rugs really do solve ALL the problems. They help to warm up a cold room,  hide unsightly stains on flooring or  cover ugly flooring entirely. And most importantly, they help to bring the various pieces of furniture in a room together. Buy larger rugs that won't viciously break up a room, and fits under all pieces of furniture in your room.
Rugs are also super affordable and can be switched up easily, making them the perfect accessory for changeable décor. Lots of renters might shy away from the idea of rugs especially if their home is already carpeted. However, rugs CAN be placed over carpets – especially flat weaved styled ones. And don't forget you can layer smaller rugs to create the illusion of a larger more textured one if you are on a tight budget.
3. Change hardware
If your kitchen is a looking a little too bland for example, replacing the cupboard doorknobs or handles with something more to your taste is a really good idea. This is probably the quickest thing you can do, that will have instant impact on a rented space. It's a simple as unscrewing the original hardware and screwing in the new ones! If you are flat sharing, get your friends to help! Some really important things to note though if you do attempt to do this is:
– make sure you are replacing handles or knobs with similar size/type mechanisms. You don't want to be drilling or filling in holes.
– Keep the original hardware and accompanying screws in a safe place. They will need to be put back in place once the lease is over.
There are some really lovely places that sell gorgeous and quite unique hardware. West elm, charity stores/car boot sales, Anthropologie, eBay and IKEA to name a few.
4. Utlise ALL the space
Storage is forever a problem – especially in London spaces that are typically quite small in square foot. The best advice I can give is to make use of areas in your home that some might class as dead space. For example, convert alcoves into workspaces, create additional rolling storage under your bed, turn window sills into shelves for books, plants and other accessories, and utilise space behind the door for storage using over the door hooks.
In my new book (Home Sweet Rented Home) I shared how to build under bed storage boxes from wood. However another simpler hack, would be to buy some large storage boxes from a 1 pound store, or even recycle used crates or  drawers and place them under your bed. You can add on castors to the bases of the boxes, using a drill screwdriver and decorate with paint (see my book for full guide).
5. Create a feature wall with Removable Wallpaper
You might be thinking that wallpaper is completely out of the question if you rent. I agree, applying traditional paste and stick wallpaper to a rented wall is a SURE way to lose your deposit. However, in recent years there has been a rise in a new kind of wallpaper that goes by a variety of names. Removable wallpaper, temporary wallpaper, peel and stick paper. This type of wallpaper has an adhesive backing that can be applied quite easily to most flat non textured walls. And then also removed, without damaging the wall. This paper is ideal if you are looking to inject some pattern or colour into a room in a non-permanent way. I explain more about this wallpaper, where you can buy it from and ideas on where you can apply it in my book.
Home Sweet (Rented) Home by Medina Grillo is now available online and from in favourite bookshop