Biophilia: You + Nature + Home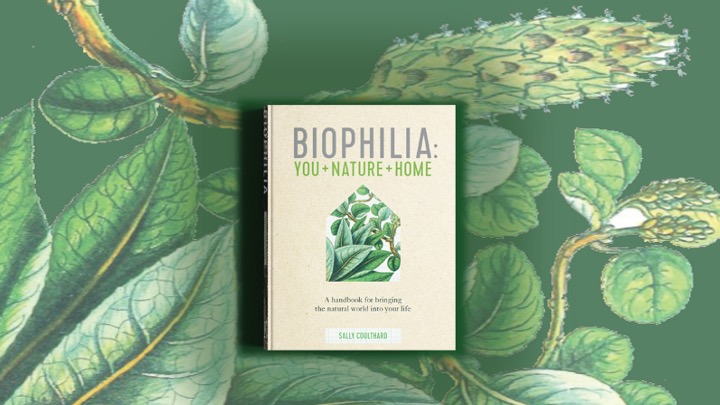 What is Biophilia?
The word 'biophilia' literally means 'love of life.' It's the simple, core truth that humans need a connection with nature to be content It's the idea that people – since the beginning of time – must feel linked to their natural environment, and the other living things in it, not only to survive but to thrive.
Author of Biophilia Sally Coulthard joins us for a Q&A…
What piqued your initial interest in Biophilia?
I think I've always known, from personal experience, that being surrounded by nature, and its rhythms, makes people happier.  I don't necessarily mean 'city bad, countryside good' – some of my favourite green spaces are in urban centres – but rather that being surrounded by natural light, trees, natural textures and colours, natural sounds and living, breathing plants has a profound effect on mood and wellbeing.  Some of my happiest memories are linked to time spent in nature – lambing as a child, seaside holidays, walks in woodland – and I think much of that contentment came from my surroundings.  As an adult, I've chosen to live in the countryside – it's where I feel most at home.  I think it's interesting that, for so many of us, time spent in nature is something we crave – at the weekends so many of us want to escape the bustle and head for the hills.
Why do you think there's such an emergence of interest in the topic right now?
It's an interesting time to be alive, not just in terms of the corona crisis.  While in so many ways, we've never been so advanced – in terms of healthcare, access to education, women's rights, diversity and so on – I think we've lost one of the most important parts of ourselves, our relationship with the natural world.  I'm not viewing nature though rose-tinted glasses – the natural world can be brutal – but as humans we evolved to respond to natural cues and a natural landscape but increasingly, we are living lives totally removed from those things.
I use the analogy of zoo animals kept in enclosures that aren't suited to their needs – most human built environments are not designed with our innate selves in mind.  We try to live and raise children in places where we have no quality of natural light, no access to green spaces, industrial noise, no interaction with other living things – and we wonder why so many of us feel 'out of sorts'.  But people are waking up to these issues.  The environment is now higher on most people's agendas and biophilia is a part of that bigger story.
In relation to the whole corona crisis I think two important messages come out from biophilia – one is that, when we're made to stay indoors we suddenly realise just how much we value being outside, amongst the fresh air, trees and expansive views.  Our confinement has highlighted just how much we need access to nature and how being indoors all the time can be so challenging.  The other lesson, I think, is that we cannot keep on having such a destructive relationship with the natural world.  It seems almost trite to say it, when people are suffering all over the world, but this whole crisis seems to have stemmed from man's blithe and careless attitude to wildlife.  It's not right to blame on person, or one country, however – it's a systemic problem.
Can one truly embrace biophilia if you can't keep a houseplant alive for more than two weeks?
Ha ha – yes! Biophilia doesn't just mean filling your house with pot plants.  If you're not green fingered it could mean taking a 10 minute lunch break in the park, rather than sitting at your desk; it could mean altering the lighting in your house so you have the right colour temperature for the right time of day; it could mean embracing natural textures, fabrics and designs in your home or enjoying the odd outdoor campfire or stroll in the forest.  There are hundreds of ways you can improve your relationship with your natural environment.
What basic rules can you apply to your workspace to bring the natural world into your life, especially if you work in a corporate/clinical environment?
Basically biophilia works on three levels: the first is to put yourself in direct contact with nature – if you're at the office, this could mean getting out at lunchtime for an outside walk, putting pot plants or fresh flowers on your desk, sitting nearer a source of natural light for example.  The second thing is to surround yourself with as many things as possible that remind you of natural things – patterns, textures, colours, materials etc.  In the office, this could mean hanging some pictures of nature on the wall, listening to nature sounds on an app, putting a nature screen saver on your screen, repainting the office in a naturally-inspired colour – corporate performance has been shown to radically improve when biophilic elements are incorporated into a workspace, so try and get your boss on board.  The final element is living in a way that connects you to natural rhythms and outdoor spaces – this means using dynamic light in the office environment (lighting which changes colour with the day), having spaces in the office which offer refuge from the noise, taking 'microbreaks' making the most of any outdoor views and so on.
What constitutes "natural" in terms of Biophilia?
That's a great question. It's a really 'woolly' word but by natural I mean that materials that are as close to their original form as possible (i.e. natural wood, undyed wool, stone, linen) – it's basically the opposite of super-processed materials such as plastics; colours need to take their inspiration from nature – this is a complex area as almost all colours exist in nature – I'm interesting in things such as how to use strong colours, how to play with dark and light colours, what kinds of colours are in your local natural environment – it's all about taking cues from nature.  For instance, I've always thought that strong Mediterranean colours don't look great in the UK, as the quality of light is so different.  Natural design also needs to support the human experience – we need to think about how we arrange our buildings and interiors so that people have spaces to socialise but also can sleep undisturbed, for example, or how we can balance spaces that are expansive and corners where we can hide.  Natural design also includes things like fresh air, ambient temperature, water features, rooftop gardens, green spaces inside and outside buildings, connecting the indoors and outdoors.  There are some really exciting things happening in biophilic design at the moment – watch this space!
Biophilia by Sally Coulthard is now available in hardback and ebook