Simple Ideas for Small Outdoor Spaces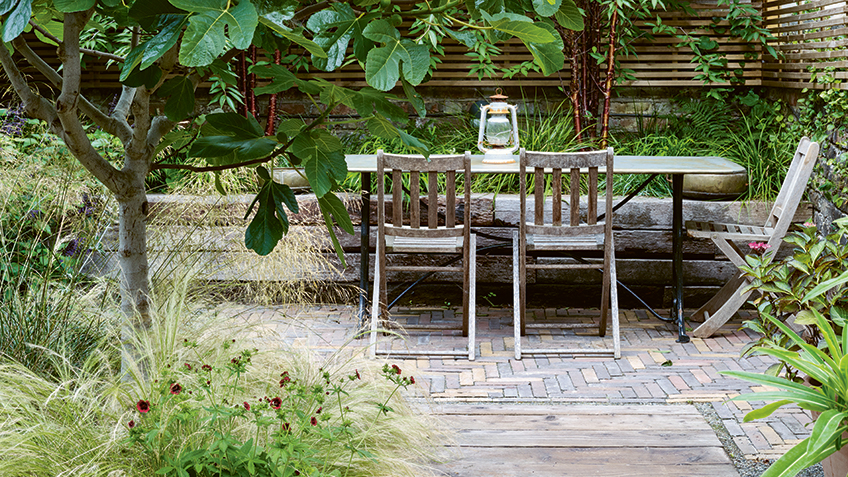 CITY OASIS
Balconies are often awkward shapes, either narrow and long or wide and short, yet wonderful gardens can still be created on them. Plants often grow where we least expect them, and it may be surprising how much you can do with a tiny space. With this 1.2-m (4-ft) wide balcony, I hoped to show that unconventional spaces don't have to be boring or remain unused, nor do they have to keep to traditional plant choices. With a touch of imagination and big ambition, they can be turned into a tropical oasis, with spaces to grow, cook, dine or simply relax. Here, festoon lights that zigzag the length of the balcony exaggerate the horizontal lines, suggesting greater width. Layers of plants at different heights and a variety of pot sizes create depth, softening an otherwise harsh balustrade boundary. This is an urban jungle taken to new heights!
The materials and colour palette used for the balcony complement the building's architecture. Tropical, hardy plants enrich the space, as do the abundant grasses on the neighbours' terrace above.
Robust and easy to care for, the dwarf Chusan palm (Trachycarpus wagnerianus) introduces height to the narrow balcony, framing the attractive views of the city but without obstructing them.
UNRULY HAVEN
I created this chic and secluded haven out of a small urban back garden measuring just under 30 sq m (323 sq ft). Beautiful, chaotic nature has been packed into every conceivable nook and cranny, to make up for the lack of space. The design is contemporary and rich in personality, with earthy materials, such as clay pavers and weathered timber, contrasting with the abundant planting. The layout of the garden is based on strong architectural forms being reclaimed by nature. Sun-bleached grasses nestling under fig trees have been left to grow as tall and unruly as they wish. Wild strawberries, sage and dill thrive among them, blurring the boundaries between a kitchen garden and a meadow-style planting. At the end of the garden is a vintage table for outdoor dining, its solid appearance making it a focal point in the garden.
TOP IMAGE: The garden path is framed with Euphorbia mellifera on one side and a gnarled fig tree on the other. At the end of the vista is a Tibetan cherry (Prunus serrula), with its copper-coloured bark.
UNTAMED CONTEMPORARY
Think of creative ways of reclaiming and incorporating existing materials found on site. In this case, old railway sleepers (ties) form a characterful raised bed at the back of the garden, giving extra height to the three Tibetan cherry (Prunus serrula) trees used to provide privacy.
Think about the views you wish to have from inside the house and how they will change over time. Large plants in the foreground will partially obscure the view, creating intrigue and adding a sense of depth.
Undulating lines aren't necessary to achieve a naturalistic look. In a contemporary design, allow plants to break boundaries and overgrow hard edges.
Earthy materials like clay pavers and timber add warmth and charm, and age beautifully over time. Consider the various material finishes available to help achieve a different look and feel.
Most grasses are easy to care for and look brilliant all year round. They also create movement and soften hard edges, such as paths.
Vintage pots and planters in various materials are scattered throughout the garden, bringing a layer of interest and soul to this newly built space. I sought to create a space that would have a soul and character but wouldn't feel like a pastiche. This gar den is an ever-evolving relationship between strong architectural forms and nature breaking their boundaries.
Extracted from GREEN by Ula Maria