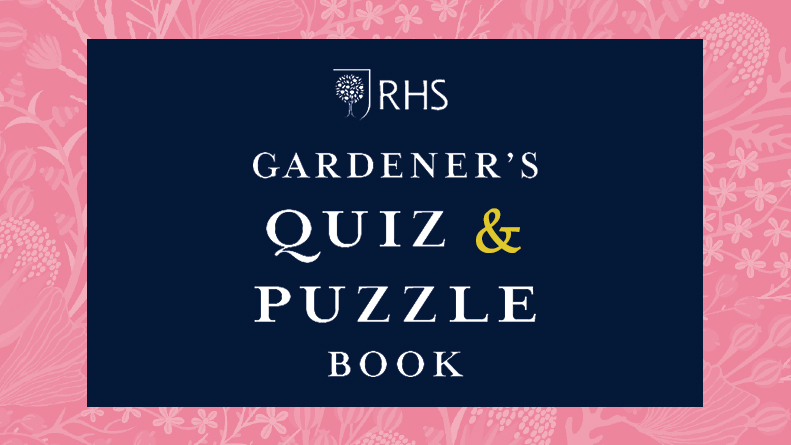 Extracted from RHS Gardener's Quiz & Puzzle Book, this is the perfect quiz for the long, sunny weekend ahead.
Pit your horticultural wits against friends and family or just to test your own grey, or should we say green, matter. This is a great way of checking to see if you really do know your onions… or any alliums for that matter.
NATIONAL FLOWERS
Can you identify the country that is associated with each of these national flowers?
1. Erythrina crista-galli
Argentina
France
Costa Rica
2. Leontopodium alpinum
Poland
Switzerland
Germany
3. Acer saccharum
Canada
Jamaica
Japan
4. Nelumbo nucifera
Thailand
Vietnam
India
5. Cirsium altissimum
Norway
Scotland
Ireland
6. Gloriosa superba 'Rothschildiana'
USA
Zimbabwe
South Africa
7. Bauhinia blakeana
Thailand
Philippines
Hong Kong
8. Acanthus mollis
Greece
Italy
Turkey
ANSWERS
1. Argentina
2. Switzerland
3. Canada
4. India
5. Scotland
6. Zimbabwe
7. Hong Kong
8. Greece
QUICK QUIZ: WILDLIFE TRIVIA
Test your wildlife knowledge by identifying the answers from the descriptions below.
1. Gastropod often disliked by gardeners. Species include leopard, black and yellow.
2. External openings through which insects breathe.
3. Rodent with a bushy tail. There are red and grey species.
4. The number of legs that an insect has.
5. The tiny overlapping pieces of chitin on the wings of butterflies and moths.
6. Animal that lacks eyelids and, while it has no visible ears, is very good at detecting vibrations in the ground.
7. The taxonomic unit below the rank genus: a group of similar individuals that can interbreed and produce fertile offspring.
8. A close relationship between two living organisms, includes mutualism, commensalism and parasitism.
ANSWERS
1. Slug
2. Spiracles
3. Squirrel
4. Six
5. Scales
6. Snake
7. Species
8. Symbiosis
MULTIPLE-CHOICE: VEGGING OUT
Test your vegetable-gardening knowledge with these multiple-choice questions.
1. What type of vegetable can include French, navy, kidney and broad?
a) Cucumber
b) Pepper
c) Aubergine
d) Bean
2. What word means fear of vegetables?
a) Lacanophobia
b) Vegaphobia
c) Herbaphobia
d) Mulcophobia
3. What is the name of the technique whereby potato tubers are exposed to light indoors prior to planting, to encourage early shoots to form?
a) Stratifying
b) Chitting
c) Grafting
d) Layering
4. What does 'crop rotation' mean?
a) Turning a vegetable upside down after harvesting
b) Growing a different crop in a different vegetable bed each year
c) Sharing a rota with others for harvesting the crops in community gardens
d) Taking it in turn to only grow one crop each season
5. Which one of the following crops is grown as a perennial, produces spears and can take up to three years before its ready for harvesting?
a) Lettuce
b) Endive
c) Asparagus
d) Mizuna
6. Which of the following is botanically a vegetable?
a) Tomato
b) Courgette
c) Aubergine
d) Rhubarb
7. What is the name of the scale used to measure the heat of chillies?
a) Scoville
b) Pepperamator
c) Capsicumer
d) Brocanmiester
8. Gardener's delight, Black Russian and Money Maker are all varieties of which fruit?
a) Courgette
b) Tomato
c) Aubergine
d) Pepper
9. What is the edible part of sweetcorn called?
a) Kernel
b) Tendril
c) Pulse
d) Drupe
10. Which parts of the amaranth plant would you usually eat?
a) Roots and stems
b) Leaves and roots
c) Flowers and root
d) Leaves and seeds
11. What type of fruit are the following: calamondin, kabosu, kumquat, meyer and ugli fruit?
a) Plantain
b) Citrus
c) Prunus
d) Apple
12. What is the offshoot of a strawberry called?
a) Jogger
b) Sprinter
c) Trailer
d) Runner
ANSWERS
1. d) Bean
2. a) Lacanophobia
3. b) Chitting
4. b) Growing a different crop in a different vegetable bed each year
5. c) Asparagus
6. d) Rhubarb
7. a) Scoville
8. b) Tomato
9. a) Kernel
10. d) Leaves and seeds
11. b) Citrus
12 d) Runner
MIX AND MATCH: KEY INGREDIENTS
Can you match each dish below with the fruit or vegetable it is traditionally made with?
DISH
French fries
Sauerkraut
Moussaka
Houmous
Tarte Normande
Pesto
Guacamole
Marmalade
Dhal
Clafoutis
Tzatziki
Tabasco
FRUIT AND VEGETABLES
1. Cherry
2. Lentil
3. Cabbage
4. Chilli
5. Avocado
6. Aubergine
7. Chickpea
8. Apple
9. Basil
10. Cucumber
11. Potato
12. Seville orange
ANSWERS
1. K. French fries – Potato;
2. C. Sauerkraut – Cabbage;
3. F. Moussaka – Aubergine;
4. G. Houmous – Chickpea;
5. H. Tarte Normande – Apple;
6. I. Pesto – Basil;
7. E. Guacamole – Avocado;
8. L. Marmalade – Seville or ange;
9. B. Dhal – Lentil;
10. A. Clafoutis – Cherry;
11. J. Tzatziki – Cucumber;
12. D. Tabasco – Chilli
ANAGRAMS : FLOWERBED FAVOURITES
Can you unscramble the anagrams below to reveal the names of popular garden plants?
omenspent
rates
sayid
litup
liveto
apaganshut
nazini
hadail
ANSWERS
Penstemon
Aster
Daisy
Tulip
Violet
Agapanthus
Zinnia
Dahlia
Lawn troubles
Can you figure out what problem, pest or disease is making a mess of the l awn in each picture below? We've given you the first letters.
ANSWERS
Leatherjacket
Fairy ring
Worms
Fusarium
Red thread
Fertiliser scorch