Winter Warmers – Creamy mushroom, rosemary & pea orzotto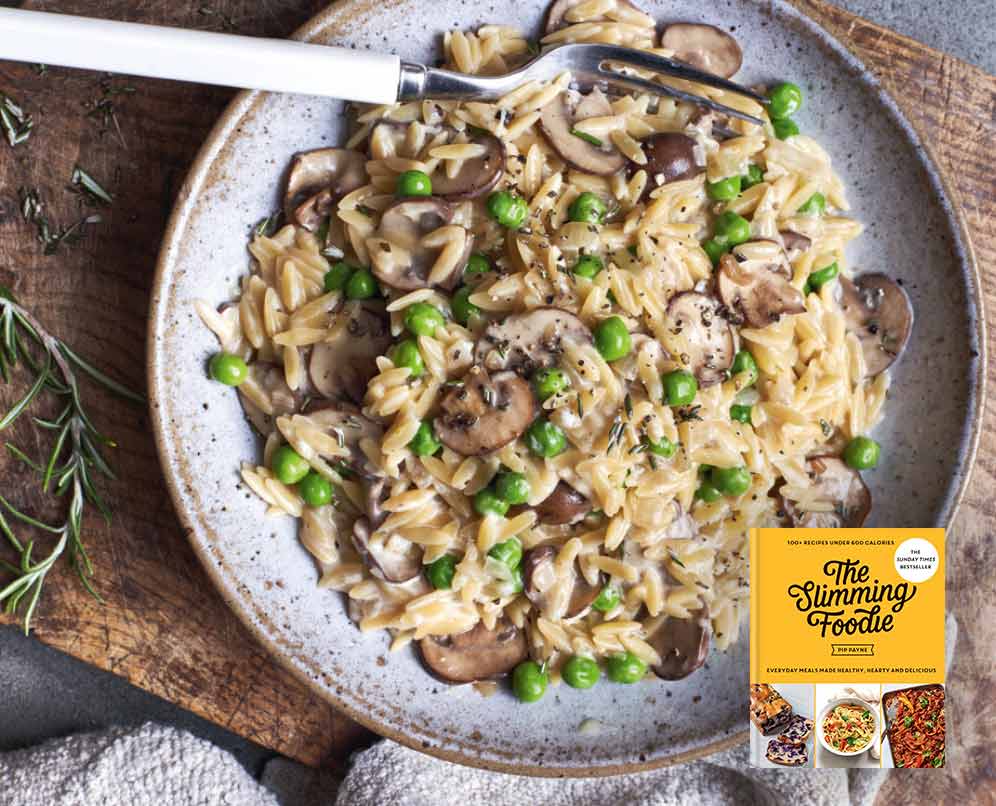 I like making risotto-style one-pot dishes using orzo, as it doesn't involve the constant stirring needed for a risotto made with rice and it cooks much more quickly, but still has a lovely texture and creamy consistency. Serve with a simple spinach or rocket salad.
Calories per serving: 375
low-calorie cooking spray
1 onion, finely chopped
250g (9oz) chestnut mushrooms, sliced
3 garlic cloves, crushed
1 tablespoon very finely
chopped rosemary leaves, plus extra to serve
300g (10oz) dried orzo pasta
50ml (2fl oz) white wine
1 litre (1. pints) vegetable stock
150g (5oz) frozen peas
2 tablespoons half-fat crème fraîche
salt and pepper
1. Spray a sauté pan with low-calorie cooking spray, place over a medium heat and add the onion and mushrooms. Fry for 10 minutes, stirring occasionally.
2. Add the garlic and rosemary and stir-fry for 30 seconds, then tip in the orzo and stir-fry for another minute.
3. Increase the heat to high, pour in the wine, stir well, then pour in 700ml (1. pints) of the stock.
4. Keep at a rapid simmer for 15 minutes, stirring occasionally to make sure the orzo doesn't stick to the bottom of the pan. After 15 minutes, add the frozen peas and stir through, then top up with the remaining stock.
5. Simmer for another 5 minutes, stirring continuously until the orzo is tender. Season with salt and pepper and stir in the crème fraîche.
6. Serve immediately with a little more chopped rosemary scattered over the top.
NOTE If you'd like to add meat to this, smoked bacon pieces fried with the onions and mushrooms make a tasty addition.
This is an extract from The Slimming Foodie by Pip Payne.