Ukrainian garlic bread -#CookForUkraine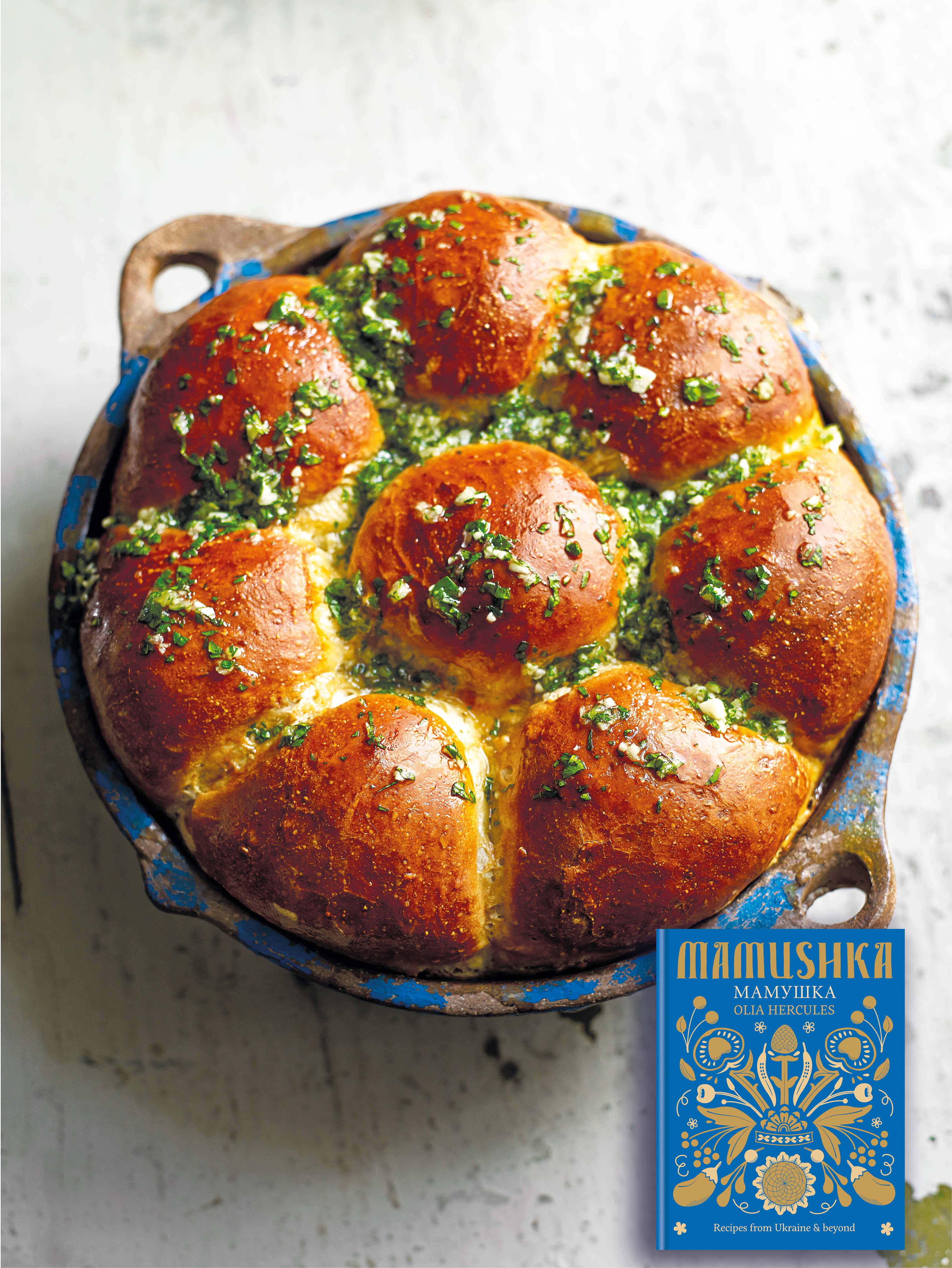 Author Olia Hercules is working with #CookForUkraine to increase awareness of the humanitarian crisis the world faces right now, as well as raise the funds needed to aid children & families in Ukraine who have been displaced by the current situation. Please visit Cook For Ukraine to contribute. All proceeds will be directed to UNICEF UK's Ukraine appeal.
The word pampushka can be used to describe a gorgeous plump woman and is one of my favourite words. Pam-poo-shka! These pampushky are traditionally served with red borshch. In Ukraine, we would use regular garlic, so if you can't find wet (new) garlic don't worry – it will still be delicious.
INGREDIENTS
Makes 8 breads
15g ( oz) fresh yeast or 7g ( oz) dried active yeast
1 teaspoon caster sugar
225ml (7 fl oz) warm water
400g (13oz) strong white fl our, plus extra for dusting
8g (⅓oz) fine sea salt
3 tablespoons sunfl ower oil, plus extra for oiling
20g ( oz) wet (new) or regular garlic, crushed bunch of parsley, fi nely chopped
1 duck (or chicken) egg , beaten, to glaze
1. First make a 'sponge', which is a type of yeasty starter. Dissolve the yeast and sugar in the measurement water (make sure it's blood temperature – hot water would kill the yeast!). Add 200g (7oz) of the flour and mix roughly. Cover with cling film and leave to prove in the refrigerator overnight.
2. The next morning, add the rest of the fl our and fi ne sea salt to the starter and knead on a well-fl oured work surface until the
dough is smooth and comes away from your hands easily.
3. Divide the dough into 8 pieces and shape into round buns. Put them side by side in an oiled round ovenproof dish or a 24cm
(9 inch) round cake tin, cover and let them prove again, this time in a warm place, until doubled in size. They will join together just like hot cross buns do.
4. Meanwhile, preheat the oven to 220 C/425 F/Gas Mark 7. To make the basting oil, simply stir the crushed garlic through
the oil with a small pinch of sea salt and the parsley, then let it infuse.
5. When the pampushky look plump and ready, brush them generously with some beaten egg to glaze and bake for 20–25 minutes or until they form a glistening golden crust. Take them out and baste them with the garlic oil. Serve immediately.
This recipe is from Mamushka: Recipes from Ukraine and beyond by Olia Hercules