SPICED CRUDITÉ PLATTER WITH TURMERIC & CUMIN HUMMUS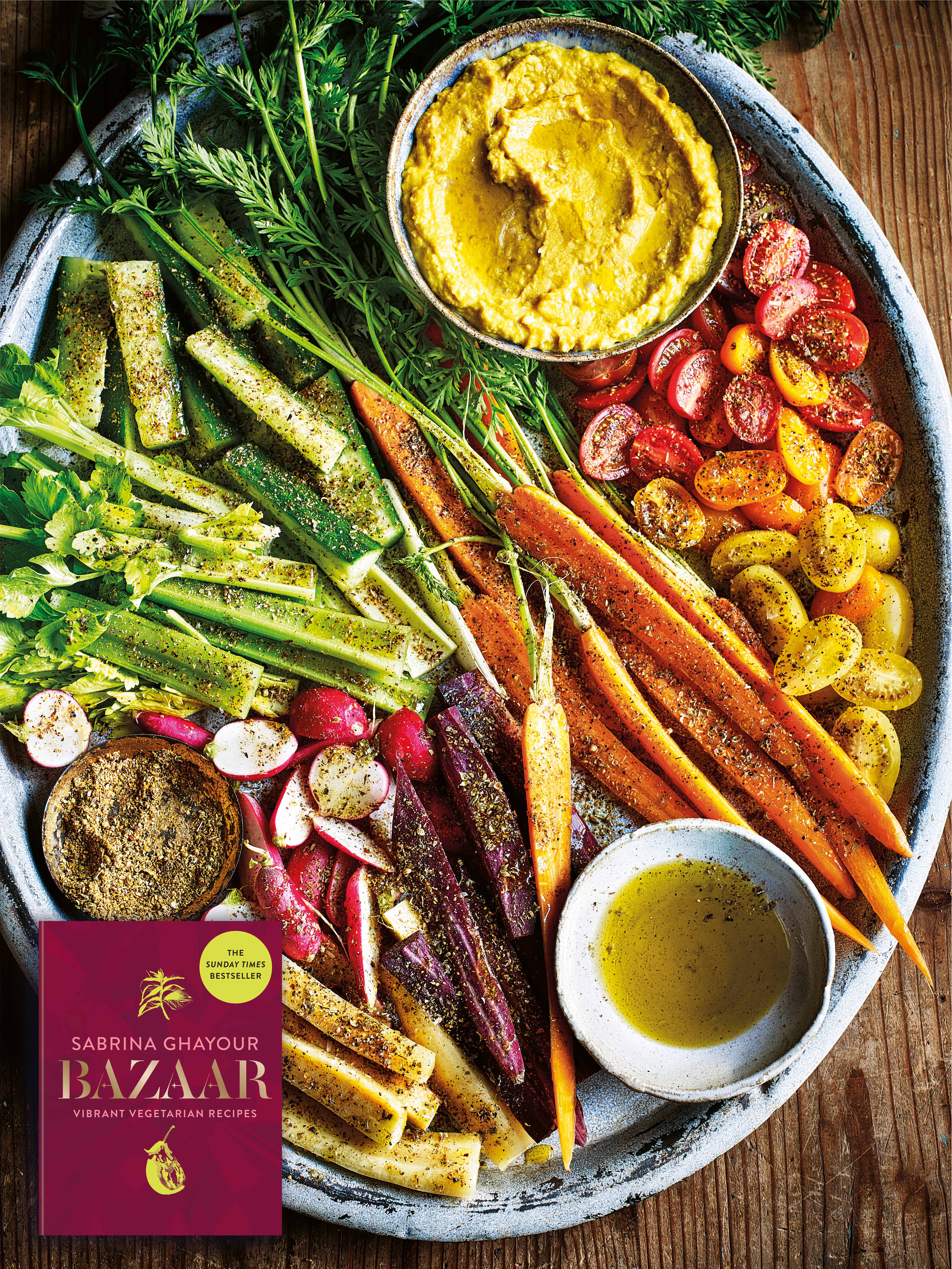 Sometimes we all need a little encouragement when it comes to consuming raw vegetables, and the simple spice treatment on this crudité platter transforms humble raw vegetables into something special, particularly when served with my chunky turmeric and cumin hummus. Persians like to snack on large quantities of seasoned baby cucumbers, but sprinkling them with a highly flavoursome spice blend takes raw veg to the next level – with minimum effort and to maximum effect. It's easy to eat half this platter in no time at all…
Ingredients
1 large cucumber, cut into batons
150g radishes, halved
4–5 celery sticks (with leaves), cut into 5cm batons
250g cherry or baby plum tomatoes
8 carrots, peeled and halved lengthways (or 4 large carrots, peeled and cut into batons)
olive oil, for drizzling
Maldon sea salt flakes and freshly ground black pepper
For the toasted-spice seasoning
1 teaspoon cumin seeds
1 teaspoon coriander seeds
1 teaspoon yellow mustard seeds
½ teaspoon chilli flakes
1 teaspoon dried wild oregano
For the turmeric & cumin hummus
2 x 400g cans chickpeas (reserve the liquid from 1 can, drain the second can)
12–15g fresh turmeric, peeled and  finely grated
1 fat garlic clove, very finely chopped
2 teaspoons cumin seeds, toasted and crushed using a pestle and mortar
finely grated zest and juice of 1 unwaxed
lemon
4 teaspoons tahini
olive oil, for drizzling
Maldon sea salt flakes and freshly ground black pepper
To make the toasted-spice seasoning, heat a small frying pan over a medium heat. Add the cumin, coriander and mustard seeds to the dry pan and toast them, shaking the pan, for 2 minutes. Transfer the toasted seeds to a pestle and mortar, mix in the chilli flakes and grind to a coarse powder. Stir in the oregano, then set aside.
To make the turmeric and cumin hummus, use a food processor or blender to blitz 1 can of chickpeas with its canning liquid until completely smooth. Add a generous amount of salt and pepper, the fresh turmeric, garlic, crushed cumin seeds, lemon zest and juice and tahini and blitz again briefly until the ingredients are all well incorporated.
Add the remaining can of drained chickpeas and pulse briefly to break them down slightly. I like a nice chunky texture, but if you prefer a smooth hummus, continue to blitz until the mixture is smooth. Check and adjust the seasoning, adding salt and pepper as necessary. Transfer the hummus to a serving bowl and drizzle over some olive oil.
Arrange the prepared vegetables attractively on a serving platter (place the cucumber batons skin-side down). Drizzle over a good amount of olive oil, season generously with salt and pepper, then season heavily with the toasted-spice seasoning. Serve immediately with the hummus.
This recipe is from Bazaar by Sabrina Ghayour. For more like this, check out Things on Sticks from The Art of the Party