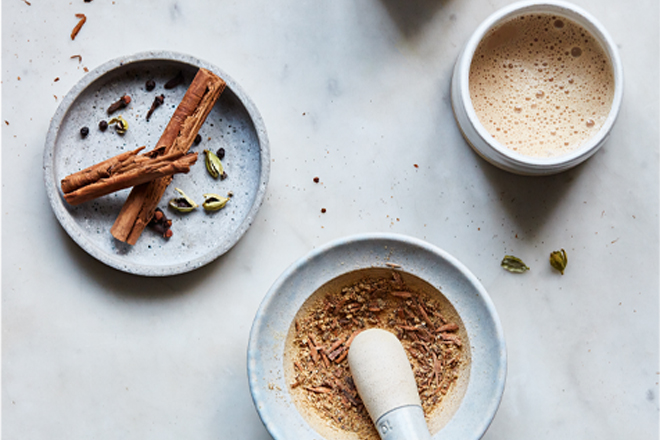 When life gets busy, we have a tendency to feel guilty for taking a break. But this needn't be the case. In fact, taking just a little bit of time out every day can significantly increase productivity, help to get creative juices flowing and lessen feelings of fatigue.
So today, we invite you to give yourself a proper tea break using Emilie Holmes' recipe for the perfect cup of Masala Chaifrom Good & Proper Tea.
Masala Chai Spice Mix
This spiced and sweetened milky tea is the elixir on which much of
India fuels itself. If you've ever had the pleasure, you will recognize
the heady spicing and immediately be transported back. The street
vendors, accustomed to making this tea all day long, make it look
painfully easy, with palmfuls of tea leaves, pinches of spice and
sprinkles of sugar flamboyantly chucked into their large pans,
ensuring that no two cups taste the same. Below we have listed the
recipe for a large batch of Chai spice mix that, stored in an airtight
container, will take you through plenty of cups of Chai whenever you fancy.
MAKES ENOUGH FOR 5–6 TEAS
10g (2 teaspoons)
cardamom pods
30g (1oz) cinnamon stick
10g (2 teaspoons) ground
ginger
5g (1 teaspoon) cloves
10g (2 teaspoons) whole black
peppercorns
Weigh out all the spices and combine using a pestle and mortar or
spice grinder. You do not want to break these spices to a powder, so
pound or pulse them until they are broken down but still visible as
shards and scraps. Decant the mix to an airtight container and store
in a cool, dark place until ready to use. The spice mix will last, properly
sealed, for up to 3 months.
To prepare two Chai lattes, add 2 heaped teaspoons of your
Chai spice mix and 2 teaspoons (5g) Assam black tea to 240ml
(8½fl oz) milk and 1½ teaspoons light brown sugar. Combine these
ingredients in a saucepan and place over a medium heat. Bring to
the boil, taking care the milk doesn't boil over, then reduce the heat
to a low simmer and steep for 5 minutes, stirring occasionally.
You can, of course, drink the latte as it is. For the full effect, however,
simply pour your Chai into a cafetière and plunge enthusiastically up
and down until it has doubled in volume, giving you a perfectly frothed
latte. Divide between two cups and enjoy.
More tea recipes in Emilie Holmes' Good & Proper Tea