POACHED PEACHES WITH CRÈME FRAÎCHE AND TOASTED HAZELNUTS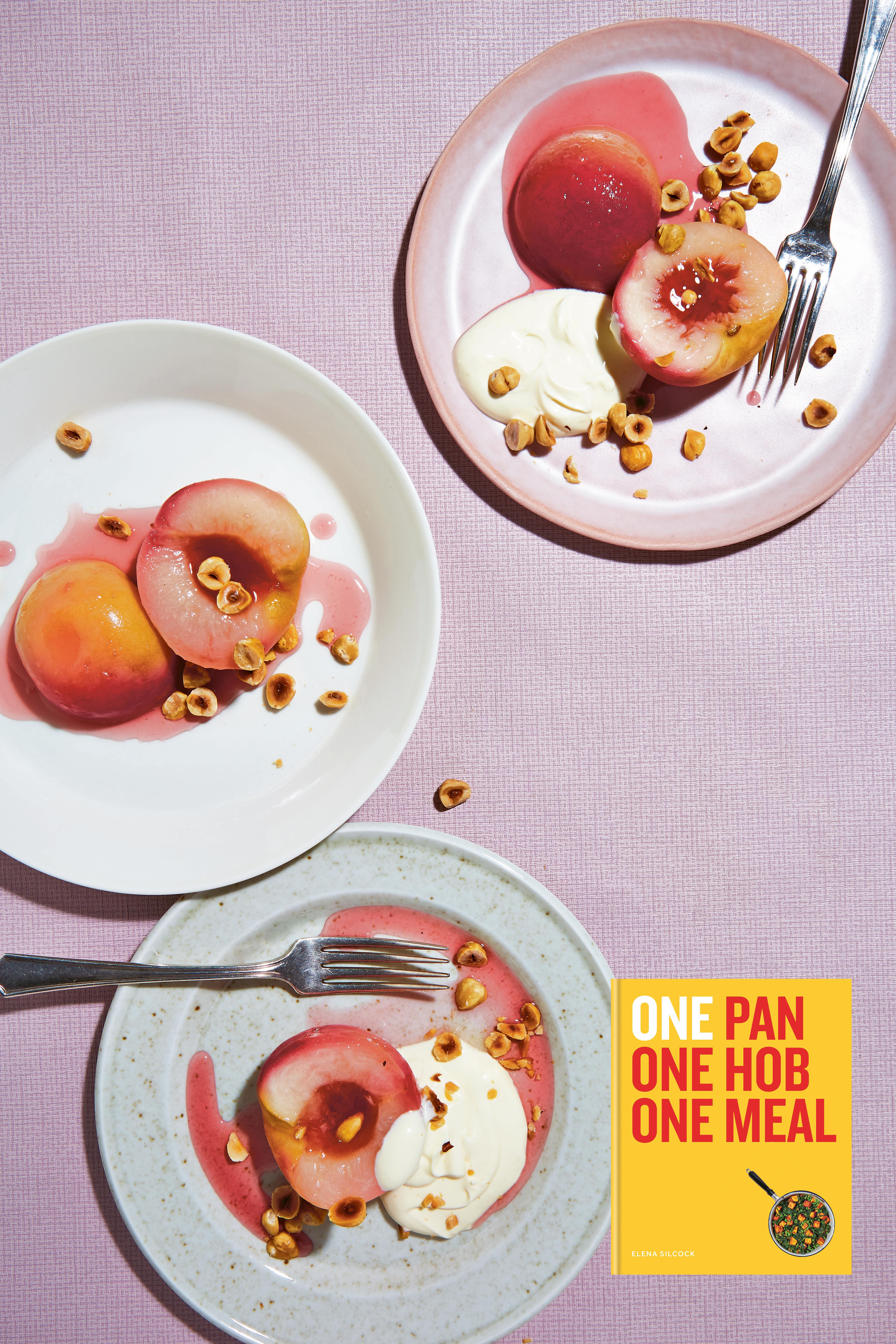 This is a super simple and elegant dessert. You can use the same method to poach plums or nectarines, depending on what you can get hold of.
50 g (1 ¾ oz) hazelnuts
250 ml (9 fl oz) dry white or rosé wine
4 ripe peaches, halved and stoned
120 g (4 ¼ oz) golden caster sugar
1 teaspoon vanilla extract
4 tablespoons cr.me fraiche, to serve
1 > Heat a large saucepan over a medium heat. Add the hazelnuts and toast for around 5 minutes, shaking the pan constantly so they become evenly brown. Tip on to a chopping board and leave to cool.
2 > Tip the wine into the pan, along with 200 ml (7 fl oz) water, and bring to the boil. Reduce the heat to a simmer, add the peach halves and poach for 10–15 minutes, until soft. Use a slotted spoon to remove the peaches and transfer them to a plate.
3 > Add the sugar and vanilla extract to the pan and increase the heat to high. Boil for 12–15 minutes, until the sauce has reduced by half and you are left with a syrupy mixture.
4 > Meanwhile, roughly chop the hazelnuts and peel the peaches. (You can leave the skin on the peaches if you prefer, but they're easier to eat if the skin is removed.)
5 > Return the peaches to the pan and gently toss in the syrupy sauce, then spoon into 4 bowls. To serve, top with a dollop of crème fraîche and scatter over the chopped hazelnuts.
This recipe is from One: One Pan, One Hob, One Meal by Elena Silcock.
If you liked this recipe, why not check out these Cardamom Buns with Cream and Marzipan?