Stock up your freezer – Chilli mac'n'cheese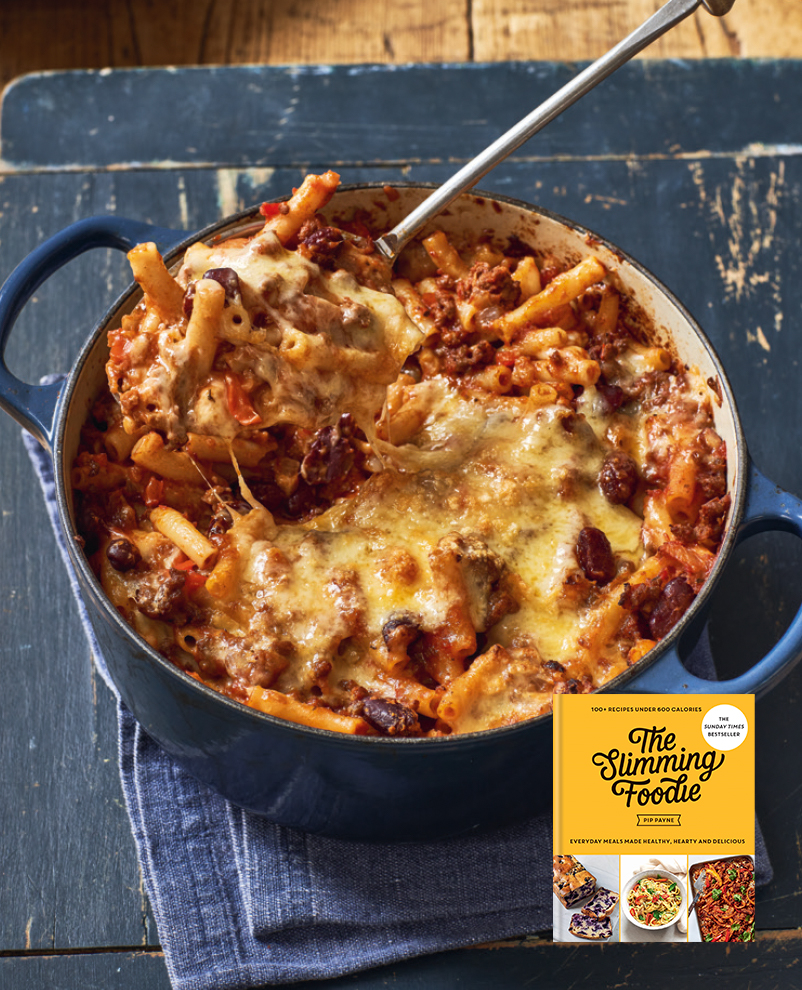 This all-in-one dish is the perfect comfort food and is packed full of Mexican flavours. It's great for feeding a crowd and reheats well too.
SERVES 6
Calories per serving: 519
low-calorie cooking spray
1 onion, finely chopped
2 garlic cloves, crushed
1 onion, finely chopped
2 red peppers, chopped
500g (1lb 2oz) lean minced beef (less than 5 per cent fat)
400g (14oz) can chopped tomatoes
1 tablespoon tomato purée
400g can red kidney beans, drained and rinsed
1 tablespoon Worcestershire sauce
800ml (1. pints) beef stock
300g (10óoz) dried macaroni
175g (6oz) Cheddar cheese, finely grated
For the spice mix
1 teaspoon chilli powder
2 teaspoons paprika
1 teaspoon ground cumin
1 teaspoon onion granules
1 teaspoon dried oregano
1/2 teaspoon pepper
1 teaspoon salt
1. Get your spice mix ready by mixing all the spices together in a small bowl.
2. Spray a large, ovenproof saucepan or casserole dish with low-calorie cooking spray and fry the onion and garlic gently for 3 minutes.
3. Add the red peppers to the pan and fry for 1 more minute.
4. Add the minced meat and cook until brown, stirring and breaking it up with a spoon, then spoon in the spice mix and stir it through the meat thoroughly.
5. Add the tomatoes, tomato purée, kidney beans and Worcestershire sauce. Stir again.
6. Pour in the beef stock and the macaroni and stir well. Put the lid on and simmer gently for 15 minutes, until the macaroni is cooked. For the last few minutes, remove
the lid and bubble gently, giving it a good stir. Preheat the grill on its highest setting.
7. Remove from the heat and stir in half the cheese.
8. Sprinkle the rest of the cheese on top and place under the hot grill for about 5 minutes, until the cheese is bubbling, melted and browned on top.
NOTE Not a fan of kidney beans? Replace them with black beans, pinto beans or haricot beans. If you fancy some more oozy, stringy cheese, stir some mozzarella through the pot before scattering the Cheddar on top and grilling.
This recipe is from The Slimming Foodie by Pip Payne