BEST-EVER CORNMEAL PANCAKES WITH BUTTER & MAPLE SYRUP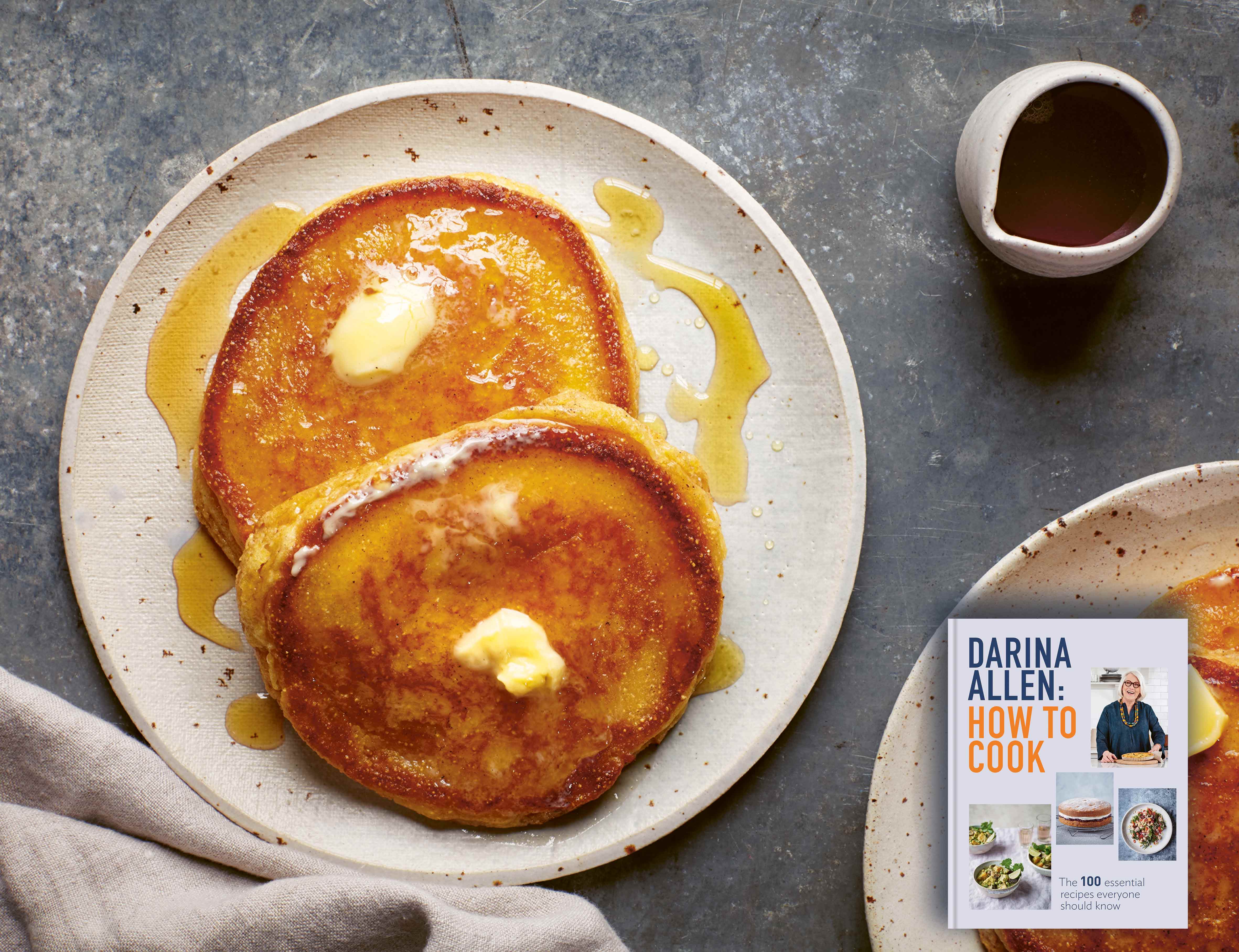 These pancakes inspired by Chez Ma Tante in Brooklyn, New York, are the most delicious I've ever tasted, so I wanted to share them with you. This recipe uses coarse polenta, also known as polenta bramata, or more commonly as cornmeal in the US.
MAKES 8 PANCAKES (V)
175g (6oz) plain flour
175g (6oz) coarse polenta (cornmeal)
2 tablespoons caster sugar
1 organic, free-range egg, plus 1 egg yolk
1 teaspoon salt
1. tablespoons baking powder
2 tablespoons melted butter
300ml (10fl oz) whole milk
225g (8oz) clarified butter
butter and maple syrup, to serve
Put the flour, polenta and sugar into a bowl. Whisk the egg and egg yolk together and add the salt and baking powder. Stir into the dry ingredients with a wooden spoon, along with the melted butter. Don't beat the mixture – it can still be slightly lumpy.
Heat a heavy cast-iron pan over a medium-high heat for 4–5 minutes. Pour in a generous 3mm (Å⁄8in) of clarified butter and allow to heat through. Pour about 60ml (4 tablespoons) batter into the pan for each pancake and allow some space between each one.
Cook for 3–4 minutes until bubbles rise and burst and the edges start to crisp. Flip over carefully and continue to cook on the other side for about 2–3 minutes until both sides are nicely brown and crisp at the edges. You will probably get about two pancakes in the pan at a time, so will need to cook them in batches until you have used all of the batter.
Serve immediately on warm plates allowing two pancakes per person. Slather some butter on each
one and drizzle a little maple syrup over the top. Quite simply sublime!
This recipe is from Home Cooked by Darina Allen.