Corned Beef with Smashed Turnips & Parsley Sauce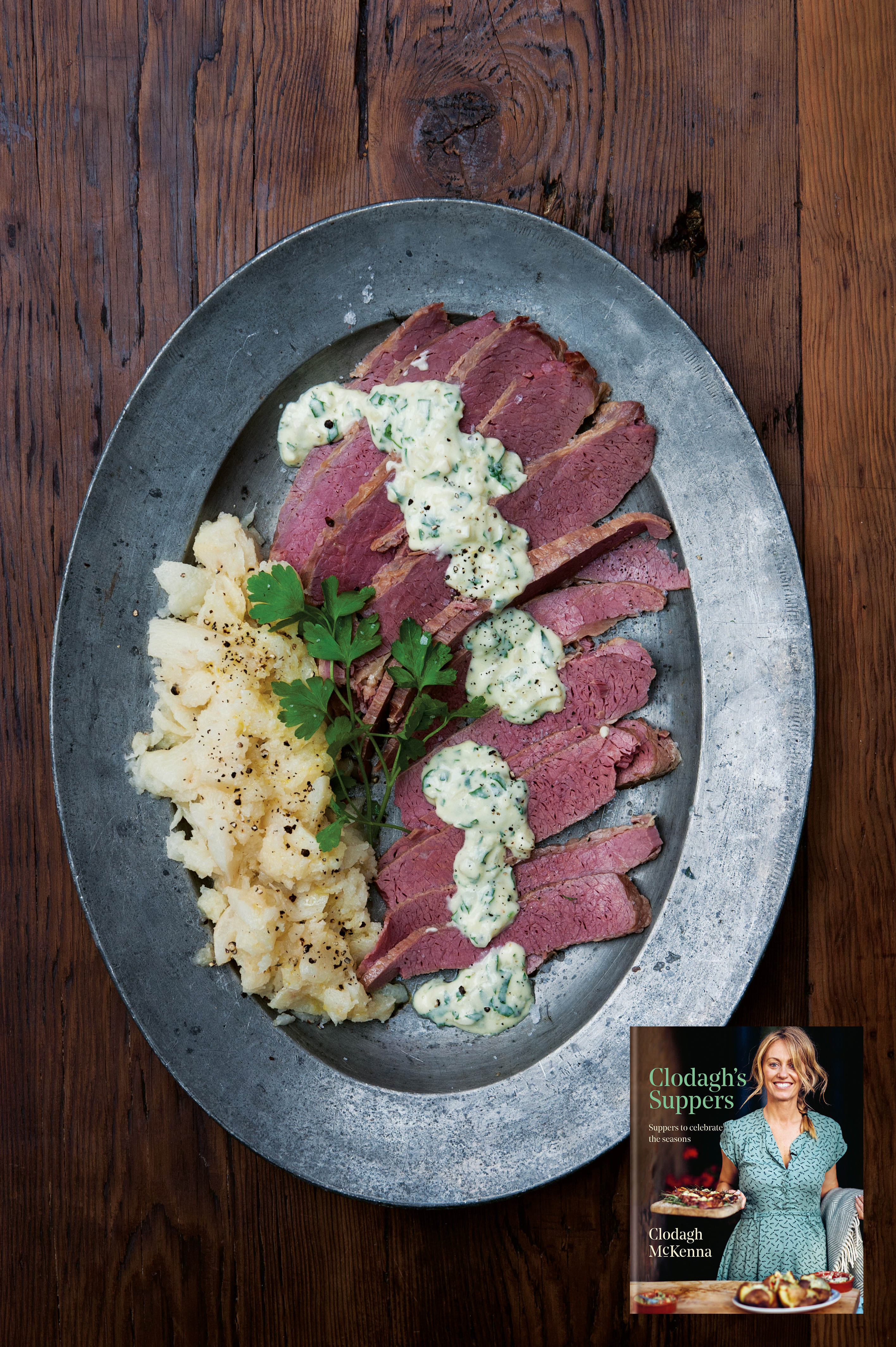 SERVES 6
On cold winter evenings in London when I miss home, I make my way to the local butcher and get myself a salt-cured silverside of beef. Once I am back in my kitchen I get the beef cooking and turn it into what we call corned beef, very similar to the Jewish salted beef. Served with buttery golden turnips and creamy peppery parsley sauce, this is my Irish comfort food that makes me so happy.
1kg salt-cured silverside beef joint
2 bay leaves
1 onion, chopped
sea salt and freshly ground black pepper
FOR THE TURNIPS
400g turnips, peeled and chopped
50g butter
FOR THE PARSLEY SAUCE
25g butter
1 onion, finely diced
2 tablespoons plain flour 200ml milk
2 tablespoons finely chopped curly parsley
1 teaspoon English mustard
pinch of freshly grated nutmeg
Place the beef, bay leaves and onion in a large saucepan, cover with water and bring to the boil over a high heat. Reduce to a simmer and skim off the foam that accumulates on the surface of the water. Cover the pan with a lid and simmer for about 2½ hours or until the beef is tender.
Remove the beef from its cooking liquid, wrap in foil and set aside. Reserve about 400ml of the cooking liquid.
For the turnips, place them in a saucepan with half the reserved beef cooking liquid. Bring to the boil, then reduce the heat and simmer for 20 minutes or until tender.
Drain the turnips and return to the pan. Add the butter and season with salt and pepper. Smash the turnips roughly using a potato masher.
To make the parsley sauce, melt the butter in a saucepan over a medium heat. Stir in the onion and cook for 1 minute, then stir in the flour and cook, stirring, for about a further minute. Add the remaining reserved beef cooking liquid, the milk, parsley, mustard and nutmeg, and season with salt and pepper. Continue to whisk until you have a smooth consistency. Cook for another 3 minutes, whisking constantly, until the sauce thickens.
To serve, slice the beef against the grain onto a warmed platter and spoon the smashed turnips alongside. Pour the parsley sauce into a warmed jug and then over the meat when you are ready to serve.
This recipe is from Clodagh's Suppers by Clodagh Mckenna
If you liked this, why not try this recipe for a Hogburger in The Hog  by Richard H.Turner