Chocolate meringue brownie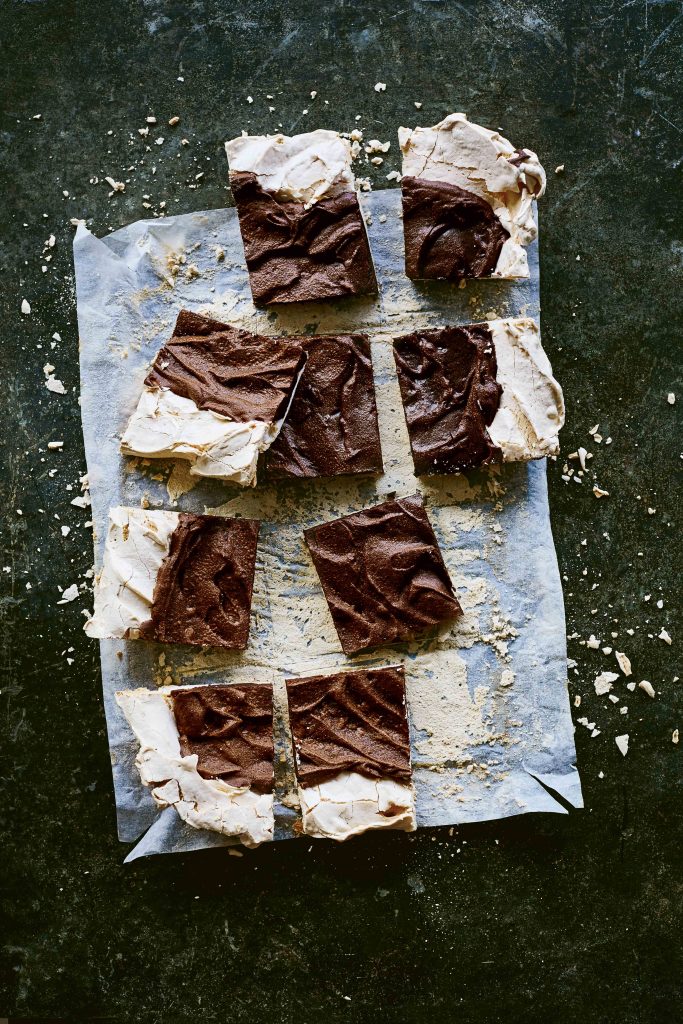 This is all chewy meringue and sticky, oozy, gooey chocolate. If you serve it still warm, the chocolate will be molten; however, it is just as good cold, and is a great make-ahead recipe. Either dark or milk chocolate would work. Try serving it with passion fruit yogurt or natural yogurt and fresh passion fruit.
Calories 278 | V
Serves 12
4 medium eggs, separated, plus 1 large egg
small pinch of salt
220g (8oz) caster sugar
3/4 tablespoon cornflour
1/4 teaspoon white wine vinegar
180g (6 1/2 oz) dark chocolate, minimum 70% cocoa solids
140g (5oz) unsalted butter, cubed
70g (2 1/2 oz) plain flour
Note:  A deep baking tray is important here to create the meringue to hold in the chocolate filling. However, this would be just as good free-form. Treat it like a pavlova, ensuring the meringue is only about 2.5cm (1in) deep all over.
Preheat the oven to 150°C/300°F/gas mark 2. Line a 30 x 20 x 5cm (12 x 8 x 2in) loose-based baking tray with greaseproof paper. Place the egg whites and a small pinch of salt in the bowl of an electric stand mixer and whisk until soft peaks form. Add 180g (6½oz) of the sugar, 1 tablespoon at a time. When it has all been added, increase the speed to high and whisk for about 7 minutes. Add the cornflour and vinegar and whisk again for another minute. Using a spatula, scrape the mixture into the tin and spread out evenly, creating a little height all around the edges. Bake for 45 minutes.
About 10–15 minutes before the 45 minutes is up, prepare the brownie filling. Place the chocolate and butter in a heatproof bowl set over a saucepan of simmering water, ensuring the bowl doesn't touch the water. Meanwhile, using an electric stand mixer or handheld electric whisk, whisk the large egg plus the yolks with the remaining 40g (1½oz) sugar until pale and thick. In a slow, steady stream, add the melted chocolate mixture and whisk slowly until incorporated. Sift in the flour and mix everything together.
Remove the meringue from the oven and increase the heat to 160°C/325°F/gas mark 3. Spread the chocolate mixture all over the centre of the meringue and return to the oven. Bake for 15 minutes. Remove from the oven, cool slightly and then slice into twelve.
Carbs 33g Sugar 27g Protein 4g Fibre 1g Fat 14.5g Sat Fat 9g Salt 0.1g
This recipe is from Skinny Desserts by Kathryn Bruton
If you like this recipe check out this Matcha Eton Mess from The Matcha Cookbook.